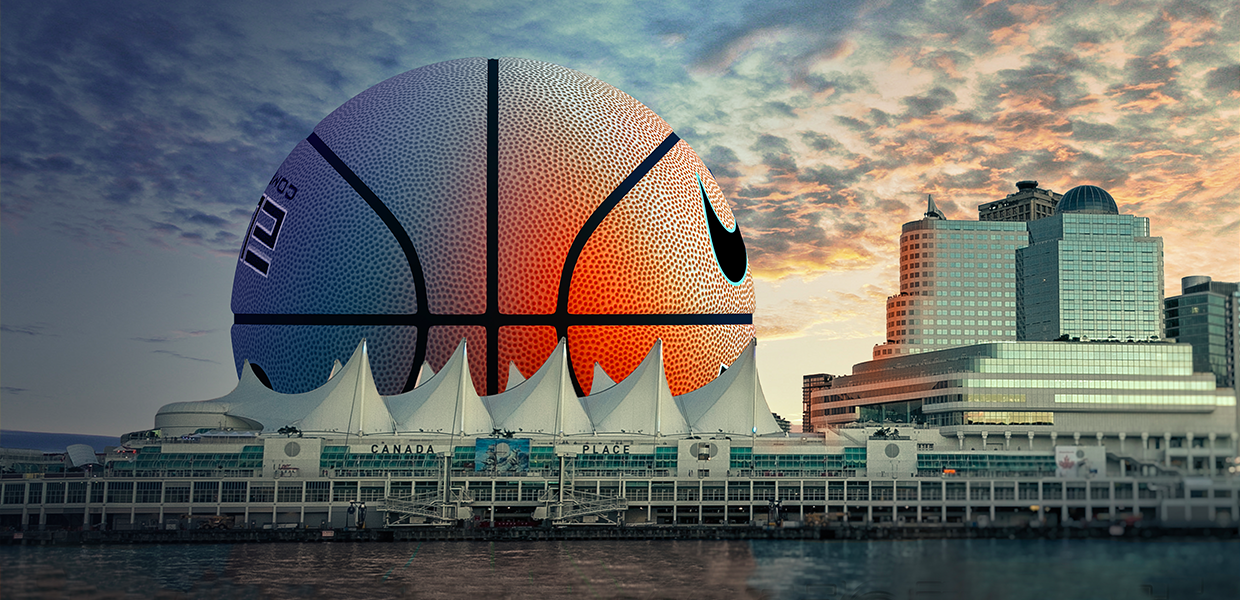 BY MIKE FIELDS
Washington men's basketball coach Mike Hopkins sounded like he was taping a commercial for the Greater Vancouver Chamber of Commerce when he was asked about his team's upcoming visit to Canada to play in the TCL Vancouver Showcase.
"It checks every box," Hopkins said. "It's one of the greatest cities in the world. It's a challenging tournament. And it's close to home. We're really excited to be part of it."
Washington, ranked in the preseason top 25, headlines the four-team competition that will be played Nov. 18-21. Minnesota, Santa Clara and Texas A&M will also be hooping it up under the iconic sails of the Vancouver Convention Centre.
Minnesota Coach Richard Pitino echoed Hopkins' enthusiasm for this inaugural Showcase.
"Vancouver is one of the most beautiful destinations in the world," Pitino said. "It's exciting to be one of the first to get out there and play. When the idea came up, I was like, OK, this is something everybody is going to want to be a part of. They'll be talking about this event like they do the Maui Classic. It's around the corner and we're pumped."
Pitino also thinks having all the games televised on ESPN platforms or the Big Ten Network will be great advertising.
"I wouldn't be surprised if people watch and say, 'We want to be part of this.' Seeing the backdrop of Vancouver on national TV, people are going to see that and say, 'How do we sign up for it?'"
Washington figures to have something of a home-court advantage, considering Vancouver is only a 2 ½-hour drive from Seattle. "I think we'll have a lot of great fan support," Hopkins said.
The Huskies proved they could play – and win – just about everywhere last season in Hopkins' first year as coach.
They went 21-13 (their first 20-win season since 2011-12), including an upset of second-ranked Kansas, and back-to-back victories over top 25 teams Arizona State and Arizona.
Hopkins was voted Pac-12 Coach of the Year.
Washington returns its starting five, including 6-foot-8 senior Noah Dickerson, who averaged 15.5 points and 8.4 rebounds last season and was first-team all-conference; 6-5 senior Matisse Thybulle, who led the Pac-12 with 101 steals and averaged 11.2 points; and 6-4 sophomore Jaylen Nowell, who averaged 16 points and was runner-up for Pac-12 freshman of the year.
"I think experience matters, especially early in the season, knowing your defense and knowing your offense," Hopkins said. "These guys adapted to our system pretty rapidly last year. We had some pretty good wins; now we're working on consistency."
As for the expectations that come with being ranked in the top 25, Hopkins said he and his staff "keep reinforcing it's just a number. The only thing that matters is what happens inside the lines, and you've got to be able to prove yourself with really good play.
"Being able to go up to Vancouver and play in a high-quality tournament gives you an opportunity to show people if you're a top 25 team or not."
Minnesota got off to a 7-0 start last season only to fall apart and lose 17 of its last 25 games. The Golden Gophers hope to bounce back, with 6-7 senior Jordan Murphy leading the way. Murphy averaged 16.8 points and 11.3 rebounds last season and led the nation with 24 double-doubles.
Minnesota's early schedule, including the TCL Vancouver Showcase, and games against Boston College and Oklahoma State, will get his team ready for a Big Ten schedule that begins Dec. 2 at Ohio State.
"The best thing you can do is challenge your guys early," Pitino said. "We're going to know where we're at. If you don't play good competition early, it can be fool's gold. I think we'll be ready to go and be really battle-tested."
Santa Clara is looking to improve on last year's 11-20 record. Herb Sendek's Broncos are led by three-year starter KJ Feagin, who averaged 17.5 points and 4.0 assists last season.
Texas A&M went 22-13 and made it to the NCAA Tournament's Sweet Sixteen last season, but it was hit hard by graduation. Billy Kennedy's Aggies will be a perimeter-oriented team, led by senior guard Admon Gilder, who averaged 12.3 points last season.
British Columbia is no stranger to big-time sports. Vancouver hosted the Winter Olympics in 2010 and the Women's World Cup Soccer in 2015. It also had an NBA team, the Vancouver Grizzlies, from 1995-2001.
TCL VANCOUVER SHOWCASE MEN'S SCHEDULE
Sunday, Nov. 18
Washington vs. Santa Clara – 5:00 p.m.
Texas A&M vs. Minnesota – 7:30 p.m.
Tuesday, Nov. 20
Santa Clara vs. Minnesota – 6:00 p.m.
Washington vs. Texas A&M – 8:30 p.m.
Wednesday, Nov. 21
Minnesota vs. Washington – 3:30 p.m.