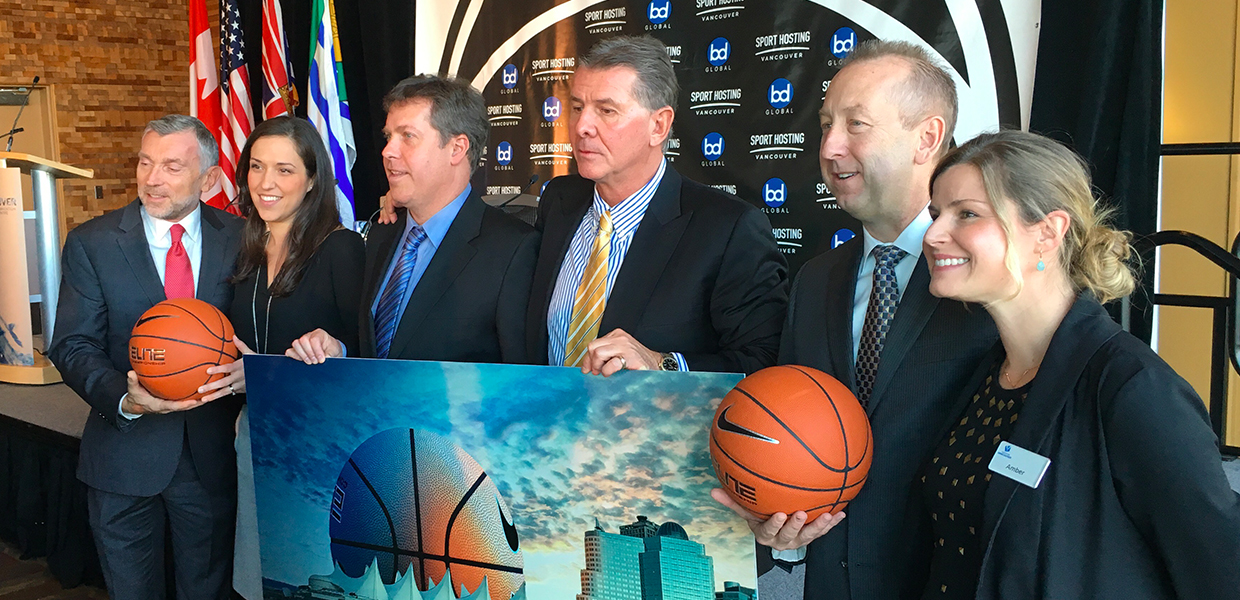 VANCOUVER, B.C. – Premier basketball is back in Vancouver.
Local officials, along with U.S.-based bd Global, announced that eight men's and eight women's basketball teams will descend upon the 2010 Olympic City in November 2017 and annually during the American Thanksgiving holiday week. During this week, National Collegiate Athletics Association (NCAA) Division I men's and women's basketball tournaments will be played back-to-back under the iconic sails of the Vancouver Convention Centre.
The Vancouver Convention Centre's exhibition space will be transformed into a 3,000-plus seat venue, complete with portable bleachers, portable floor, goals (baskets), and video boards to provide a first-class fan experience at every game.
"Vancouver has proven itself as a world-class destination for major sporting events, so we are very excited to bring the first regular-season NCAA Division I college basketball tournaments ever played in Canada to this extraordinary city," said Brooks Downing, president and CEO of bd Global. "Given the destination, combined with our unique site at the Vancouver Convention Centre, this annual event will be very successful for years to come."
bd Global manages multiple events across the U.S. from South Florida to Las Vegas. This year alone, the firm will be responsible for more than 100 NCAA Division I college basketball games. The idea for the Vancouver event came from two locals – David Munro, a former Vancouver Grizzlies official, and Howard Kelsey, who has been involved with Canadian basketball at nearly every level for the past four decades since he played for Team Canada. Both will serve as co-tournament directors.
"This is likely Vancouver's biggest elite basketball-related news since the NBA announced that the Grizzlies franchise was awarded to Vancouver," said Kelsey, who is the co-founder of the CDN National Teams Alumni Association.
"The 2011 NCAA game that we co-hosted between Gonzaga and Hawaii proved that Vancouver is more than ready to play host to an additional big-time event," added Munro, who currently works at the Sports Institute. "Our Vancouver Showcase will feature exciting NCAA men's and women's basketball in an unprecedented setting on an annual basis for the City of Vancouver."
The recently announced Sport Hosting Vancouver partnership between the City of Vancouver, Tourism Vancouver, the Vancouver Convention Centre, the Vancouver Hotel Destination Association, and the University of British Columbia was a key reason bd Global selected Vancouver to host this premier event. Sport Hosting Vancouver industry partners work together to identify and attract major events that deliver economic and social benefits to the community and connect event owners with local expertise. Having played host to the 2010 Olympic and Paralympic Winter Games, the Davis Cup and the 2015 FIFA Women's World Cup, annual destination events such as the Vancouver Basketball Showcase tournaments are a great addition to Vancouver's sport hosting resume.
"Today's announcement is the start of another exciting chapter for playing host to great sports events in Vancouver," said Michelle Collens, manager of Sport Hosting Vancouver. "It was the collaborative effort of our local sport tourism industry partners that saw the success of this inaugural event come to fruition. The Vancouver Basketball Showcase will strengthen Vancouver's reputation as a world-class city for major events."
Similar basketball tournaments in other U.S. cities have created a strong marketing platform throughout the U.S. while increasing economic activity.
"Sporting events play an important role in stimulating tourism demand," said Ty Speer, Tourism Vancouver's president & CEO. "Growing the number of major annual sporting events taking place in our city is one of Tourism Vancouver's goals, as well as an outcome of the Tourism Master Plan. We see this as a huge opportunity for developing tourism in Vancouver and are pleased and proud that our city is hosting this exciting event."
In addition to airlifting in 16 teams annually from across the United States, the event is expected to drive "heads in beds" with fan travel, media, international broadcast production groups and game officials, requiring multiple hotels to be involved as hosts.
"Vancouver continues to look for opportunities to host first-class sporting events," said Russ Cowan, executive director of the Vancouver Hotel Destination Association. "Our 35 downtown Vancouver member hotels are pleased to be a major supporter of the Vancouver Basketball Showcase. This unique tournament will not only bring visitors from many key markets in the USA, but will also showcase Vancouver as a world-class destination through media coverage broadcasting the event."
Transforming the Vancouver Convention Centre into a basketball venue once again shows the flexibility of the renowned venue that attracts more international meetings and conventions than any other city in North America.
NCAA Division I basketball players represent highest level of intercollegiate athletics in the United States. Schools in this division include the major collegiate athletic powers, with larger budgets, more elaborate facilities, and more athletic scholarships than other divisions. bd Global has worked with such programs like Kentucky, Duke, Gonzaga and Michigan State on the men's side, and Connecticut, Stanford, Baylor and UCLA in women's basketball. NCAA bylaws permit a team to play in any one tournament – commonly referred to as a multiple-team event or "MTE" in NCAA lingo – once every four years. As an example, if Washington were to play in 2017, the Huskies could not play again until 2021.
"The beauty of the most common format used for these events is that every team will play multiple games in Vancouver as the tournaments will be structured with a winners and consolation bracket," Downing said. "And since a team can only make a trek here once every four years, we'll be hitting 64 different U.S. markets every 48 months. That's a significant marketing approach that we think will drive future out-of-market tourism for Vancouver and the region."
Teams for the inaugural event in 2017 will be announced at a later date. Organizers expect part if not all of the event to be televised in both the U.S. and Canada.